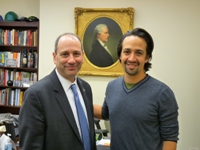 MoAF President David Cowen with "Hamilton" creator Lin-Manuel Miranda.
By Phil Lanides, History Personified
American historical figure Alexander Hamilton has experienced a recent surge in interest due to the massively popular Broadway musical bearing his name. But what was Hamilton really all about? On this week's episode, we dig deeper into the life of the father of American finance with Museum of Finance President & CEO David Cowen. We discuss Hamilton's early days, his rise to power, so to speak, and his feud with and subsequent death at the hands of Aaron Burr. Why did he have issues with James Madison and Thomas Jefferson? How did he feel about slavery? And where would he stand in today's political climate?