Dear Friend,
Every day the Museum of American Finance advances people's understanding of our nation's financial system. From market cycles to market leaders, from IPOs to mergers and acquisitions, the Museum reflects the rich history behind the financial markets that drive today's economy. And, if you don't know where you've been, how do you know where you're going?
"TOMORROW WAS CREATED YESTERDAY...AND, BY THE DAY BEFORE..."
–John Le Carré
The Museum's core mission is to teach you, your neighbors, students and visitors from around the world the lessons of financial history. On display in the Hamilton Room, the first Report on the Public Credit teaches us how the assumption of states' debts in 1790 helped create the financial system, so pivotal to our country's long-term financial stability. And, the need for understanding the role debt and equity play in our financial systems—and our personal finances—has never been greater.
LESSONS LEARNED–EVERY DAY.
This year, we broadened our reach as more than 50,000 people visited our permanent and special exhibits, and accessed our multi-media programming—from educational programs to our lunchtime series. Featuring industry leaders and widely-acclaimed professors, our lecture series engaged audiences in conversations ranging from discovering humanity in the world of risk and return to restoring American economic dynamism. These programs continue to reach diverse viewers through our YouTube channel.
HELP US MAKE HISTORY TODAY...AND TOMORROW.
Make a difference. Please join our committed friends of American finance in our mission to broaden awareness of the power and value of finance and the capital markets.
DONATE NOW. We cannot do this without your support. With your tax-deductible contribution we will continue to heighten understanding of the importance of the financial industry to the global economy.
Thank you for your generosity and for all you do for the Museum.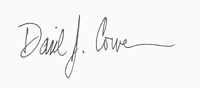 David J. Cowen
President and CEO
*Gifts at or above $500 entitle donor to a signed copy of Kenneth Winans' award-winning and beautifully-illustrated financial history book, Investment Atlas II.