A 3D VISION FOR OUR FUTURE
Dear Friend,
As we continue to plan for the future of the Museum, our collection of rare artifacts is safely stored awaiting its new home. But, we have not been idle while we strategize our next steps. And, in 2020, we will undertake a major DIGITIZATION project to increase access to our unique collection and facilitate sharing our assets with global audiences.
DISPLAY: Showcasing Our Assets
As opportunities arise, we share highlights from our vast collection through collaborations with public and private organizations. In October, we introduced a digital touchscreen version of our exhibit, "America in Circulation: A History of US Currency," at the New York City and San Jose headquarters of PayPal. Also this year, we collaborated with the Museum of Science and Industry on a display focused on the evolution of financial technology at Citadel Securities' global headquarters in Chicago. We will introduce an exhibit in early 2020 with the NYC Municipal Archives on NYC water and Aaron Burr's Manhattan Company, the foundation for Chase Manhattan Bank.
DIALOGUE: Featuring Thought Leaders
In 2019, our Evening Lecture Series program, "Corporate Sustainability: Is It Sustainable?," featured a fireside chat with Martin Whittaker, CEO of JUST Capital, and a panel discussion including Duke Energy Chairman, President & CEO Lynn Good. Other programs featured Nobel Laureate Joseph Stiglitz, legendary financial journalist Jim Grant and industry leader Steve Forbes. Our C-suite Video Series, "Disrupting Wall Street: The Power of FinTech," a highly acclaimed collaboration with Cheddar Media, included some of the most influential technology leaders on Wall Street.
Our quarterly digital magazine, Financial History, continued to feature the "Where Are They Now?" series on the underwriters of the 1956 Ford IPO. And, we educated high school students on personal finance through the Museum Finance Academy, our after school program that combines lectures with interactive events and field trips.
DONATE: Making an Investment for the Future
Your generous donation helps advance our vision for the future and execute on our mission to expand awareness of the importance of finance to the global economy.
DONATE NOW. We cannot do this without your support. Your tax-deductible contribution today supports the future of the Museum and our progressive Evening Lecture Series, educational programming, daytime events, publications and research projects, as well as our collaborations with industry leaders.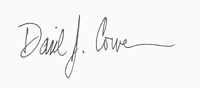 David J. Cowen
President and CEO