OUR PAST PERFORMANCE DOES GUARANTEE FUTURE RETURNS
Dear Friend,
Every day, the Museum of American Finance strives to make history. Through our Evening Lecture Series, educational programming, daytime events, walking tours, publications and research projects, we educate the public on the power and value of finance and the financial markets in driving the nation's economy.
OUR ASSETS HAVE INCREASING VALUE
While we continue to plan for the future of the Museum, our collections and rare artifacts are safely stored and awaiting their new home. As opportunities arise, we share highlights from our vast collection with audiences around the country via traveling exhibits. In addition, we plan to undertake a major digitization project in 2019 that will increase global access to our unique collection.
PAST PERFORMANCE IS INDICATIVE OF FUTURE RETURNS
In October, we launched our second video collaboration with Cheddar Media (above), showcasing financial technology executives discussing the power of fintech in "Disrupting Wall Street." This followed our highly-acclaimed CEO Video Series, "Why Wall Street Matters," that featured some of the most influential leaders on Wall Street. Our Evening Lecture Series included fireside chats and panel discussions on the future of the blockchain and the impact of fintech on access to financial services. It also featured programs with legendary investors Howard Marks and Mario Gabelli, and Warren Buffett's editor, Lawrence Cunningham.
Over the past year, we continued to educate high school students on personal finance through the Museum Finance Academy, our free after school program combining lectures, interactive events and trips. And, our quarterly digital magazine, Financial History, featured our new "Where Are They Now?" research series on the underwriters of the 1956 Ford IPO.
MAKE AN INVESTMENT IN THE MUSEUM'S FUTURE
Your contribution today supports the future of the Museum. Your generous donation helps us advance our mission and execute on our vision to engage the public through information and experiences that connect the past with the future of finance.
DONATE NOW.* We cannot do this without your support. With your tax-deductible contribution, we will continue to bring you exciting, timely programming and expand awareness of the importance of the financial industry to the global economy.
Thank you for your generosity and for all you do for the Museum.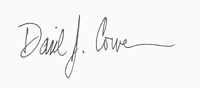 David J. Cowen
President and CEO
*Gifts at or above $750 entitle donor to either a silk Vineyard Vines Alexander Hamilton tie or an exclusive silk Museum decorative women's scarf. Please e-mail your selection to mross@moaf.org.