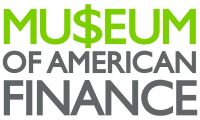 The Museum of American Finance is the nation's only independent museum dedicated to educating the public on finance and financial history and empowering individuals to strive toward financial independence in a setting that encourages curiosity and discovery.
The Museum, an affiliate of the Smithsonian Institution, seeks to heighten the public's awareness and understanding of the financial industry, its importance to our country's economy and how the financial markets function to move capital to where it is most needed.
Our rich archive spans the entirety of American finance and houses the nation's strongest collection of 18th century US financial documents, including multiple letters and documents from Alexander Hamilton that established the basis for our financial system. The Museum, a non-profit 501(c)(3), seeks to play a special role as a guardian of America's collective financial memory, as well as a presenter and interpreter of current financial issues, thereby connecting the past with the present while serving as a guide for the future.
Please note that the Museum's exhibits are currently closed due to a flood, but that all events will proceed as scheduled at off-site locations.