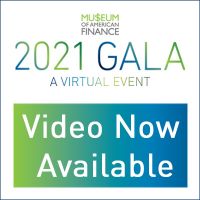 Monday, February 22, 2021
5:30 PM to 7:00 PM
The Museum of American Finance will honor the achievements of financial leaders in both the public and private sectors with two important awards at its 2021 Gala.
Upcoming Events and Tours
Joseph Calandro, Jr. on "Jay Gould and the Union Pacific from the Panic of 1873 to 1880"
Tuesday, February 2, 2021 - 12:00 PM

Joseph Calandro, Jr., author of Creating Strategic Value, will assess Jay Gould's skills as a corporate executive following his distressed investment in, and subsequent control of, the Union Pacific Railroad. He will focus on many modern techniques Gould used in his turnaround that are relevant to 21st century executives.

George Szpiro on "Risky Decisions: How Mathematical Paradoxes and Other Conundrums Have Shaped Economic Science"
Tuesday, March 16, 2021 - 12:00 PM

In this talk, award-winning author and journalist George Szpiro will give examples of mathematical paradoxes and psychological conundrums that have led to advancements in economic science. He will challenge the audience with questions about how to make decisions, and thereby show how people who believe themselves to be rational can be led astray.

John Wasik on "Lincolnomics: Why the 16th President's Vision for Economic Progress Still Rocks"
Tuesday, April 20, 2021 - 12:00 PM

In his forthcoming book, Lincolnomics: How President Lincoln Constructed the Great American Economy, author John Wasik puts the 16th President in a powerful new light: He was our foremost architect of economic development, equal treatment and physical and intellectual improvements, from transportation to medical research.