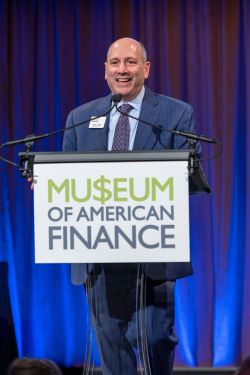 David J. Cowen | President/CEO
Phone: 212-908-4604 | dcowen@moaf.org
David Cowen has been the Museum's President since 2009. Under his leadership, the Museum has created two dozen rotating exhibits, instituted a free finance academy for high school students and led board growth from 10 to 40 members. He holds a BA from Columbia College, an MBA from the Wharton School of Business and an MA and Ph.D. in American history from NYU. He has written extensively on US financial history and is the co-author of Alexander Hamilton on Finance, Credit, and Debt and Financial Founding Fathers: The Men Who Made America Rich. He is a founding Co-Chair of the International Federation of Finance Museums (IFFM) and has served on the Smithsonian Affiliates Advisory Council and the Federal Reserve Board's Centennial Advisory Council.
View David Cowen's photo gallery.