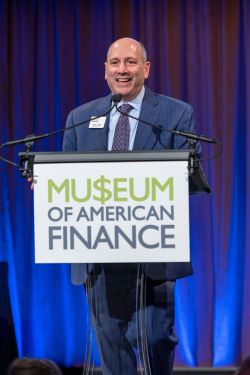 David J. Cowen | President/CEO
Phone: 212-908-4604 | dcowen@moaf.org
David Cowen, the Museum's President/CEO, has over 20 years experience as a trader on Wall Street, including in the foreign exchange groups at Bankers Trust and Deutsche Bank. The founder of Quasar Capital Partners, a macro hedge fund, Mr. Cowen holds a BA in American history from Columbia College, an MBA from the Wharton School of Business, and an MA and Ph.D. in American history from NYU. He has written extensively on US financial history and is the co-author of Alexander Hamilton on Finance, Credit, and Debt (Columbia University Press, 2018) and Financial Founding Fathers: The Men Who Made America Rich (University of Chicago Press, 2006). He is a founding co-chair of the International Federation of Finance Museums (IFFM) and has served on the Smithsonian Affiliates Advisory Council and the Federal Reserve Board's Centennial Advisory Council.
View David Cowen's photo gallery.