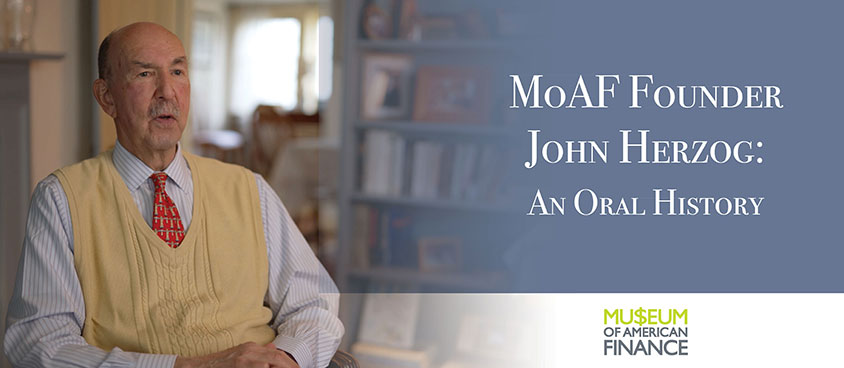 Watch oral history video series with MoAF founder John Herzog here.
John E. Herzog first conceived of a Museum of American Finance after the Crash of '87, when the market plunged a staggering 508 points - 22.6% in one day. As a partner in a major NASDAQ market making firm, Herzog Heine Geduld, he saw the reaction first-hand: "The trading room was chaos, everyone shouting, the turret lights all lit, tempers short and frustration high; an image of confusion and stress hard to improve upon. Everyone was in shock. NPR reported the dollar's plunge against the yen and more data and questions came from all directions."
Herzog recalled vividly his parents' lessons from having lived through the stock market Crash of 1929 and the Depression years and realized that the lessons from the past were completely forgotten. "What was missing in the confusion and panic during 1987 was historical perspective. I wanted to contribute to people's enhanced understanding of the capital markets through the history of our amazing American financial experience."
Herzog had nearly 30 years in the trading business, and his wife, Diana, headed R. M. Smythe & Co., a numismatic auction firm also owned by him. With that background and a collection of financial memorabilia he began "the museum project" in 1988 with a retrospective exhibit in the Custom House. That exhibit traced the history of American finance from the South Sea Company in England to the Liberty Loan Bond Drives of World War I. Herzog wanted to make it possible for people to see, experience and understand our markets in richer context. In the fall of 1989, the original exhibit celebrating Alexander Hamilton, first US Treasury Secretary, attracted 6,000 visitors, and the Museum was organized with tax-exempt status, a board of Trustees and a provisional charter. The Museum was on its way.