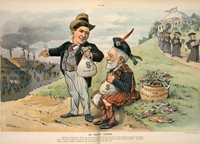 By Kristin Aguilera, Deputy Director, Museum of American Finance
Bloomberg - Echoes Blog
Andrew Carnegie, who died 93 years ago tomorrow, remains a polarizing figure. He has been labeled a great industrialist by some, a robber baron by others. Some argue that his impoverished childhood and work in a cotton mill enhanced his sympathy for workers, while others contend the conditions in his steel mills were inhumane.
Even his unparalleled philanthropy -- which continues to shape the American educational and cultural worlds to a remarkable degree -- has sparked its share of criticism.
[See link on right for full article]