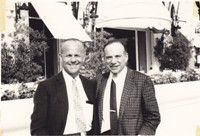 Newman and Graham, 1959
By Kristin Aguilera, Deputy Director, Museum of American Finance
Bloomberg - Echoes Blog
The legendary economist and investor Benjamin Graham is widely known as the father of value investing. He may also be the father of the hedge-fund industry.
While most historians and industry professionals credit Alfred Winslow Jones with launching the first hedge fund in 1949, some people, including Graham's protege, Warren Buffett, disagree.
"Ben Graham managed a hedge fund in the mid-1920s," Buffett wrote in a letter to the Museum of American Finance. "It involved a partnership structure, a percentage-of-profits compensation arrangement for Ben as a general partner, a number of limited partners and a variety of long and short positions."
Jones's company, A.W. Jones & Co., is probably credited as being the first hedge fund because it was the first to be labeled a "hedge fund," a term that appeared in an April 1966 article by Carol Loomis in Fortune magazine titled "The Jones Nobody Keeps Up With."
It was an in-depth profile of Jones, a sociologist and former Fortune writer whose research for a story on technical approaches to investing in the stock market prompted him to leave journalism for finance.