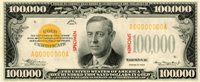 By Kristin Aguilera
Lower Manhattan Diary
When President George Washington died in 1799, his financial assets included such luxury items as a custom-made chariot, a 124-pound cheese wheel and more than 100 gallons of Madeira wine.
Andrew Jackson was relatively financially uneducated and had a mistrust of banking so strong that it led to his elimination of the nation's central bank; yet he was the only President to extinguish the national debt.
These and other financial facts about our commanders-in-chief are explored in "Checks & Balances: Presidents and American Finance," an exhibit opening on Election Day - Tuesday, November 8 - at the Museum of American Finance at 48 Wall Street...