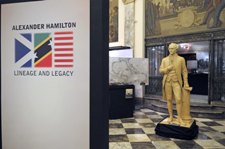 By Kristin Aguilera, Deputy Director, Museum of American Finance
Downtown Alliance Blog
If you live or work downtown, you are probably familiar with the name Alexander Hamilton. Perhaps you've passed his gravesite at Trinity Church or have visited the Alexander Hamilton US Custom House. Or maybe you know he was the nation's first Secretary of the Treasury and founder of American finance whose image is on the $10 bill.
But did you know Hamilton was also an amateur poet? A soldier? A founder of the New York Post and the US Coast Guard? Or that he was involved in the nation's first major sex scandal?
"Alexander Hamilton: Lineage and Legacy," which opened this week at the Museum of American Finance, takes an in-depth look at Hamilton's life, from his humble beginnings as an illegitimate child born on the island of Nevis to his death in an infamous duel with the sitting Vice President of the US, Aaron Burr...