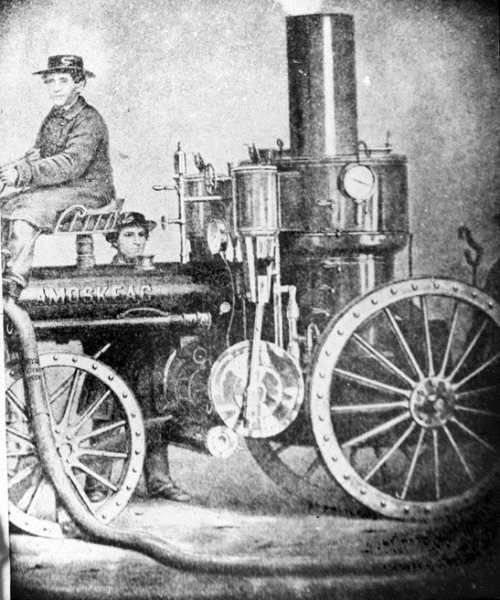 The Boston Stock Market was in bull mode throughout 1859, and the biggest gains were in manufacturing. Amoskeag, for one, was up from $890 to $1,000 per share over the year.
The Amoskeag Manufacturing Company, located in Manchester, NH, made steam locomotive engines from 1849 to 1858. The general slowdown in production of locomotives after the Panic of 1857 allowed time for engineers, designers and mechanics to focus on building a better steam powered fire engine and enter their designs in competition. One such engineer, who had for a time been a firefighter and grew frustrated with the inefficiency of handtubs (tubs filled with water by bucket brigades that fed into a hose nozzle by a hand-operated piston pipe), was Nehemiah Bean. Bean was hired by Amoskeag to improve on his earlier steam fire engine design (developed with local mechanic Thomas Scott).
In the summer of 1859, Amoskeag debuted its first steam powered fire engine, "Amoskeag No. 1," designed by Bean. In a display of power, it could shoot two streams of water 203 feet straight up into the air. The era of using handtubs to fight fires was over. With growing demand for steam fire engines across the country, Amoskeag ramped up production and hired mechanics. Soon an engine could be built in two months.
Admired for their efficiency fighting fires and their beautiful design, Amoskeag steam fire engines were pivotal in fighting the Great Boston Fire of 1872. To see how horse drawn, steam powered fire engines of the late 1800s operated, check out this Steam Culture video filmed at the Vintage Fire Museum: