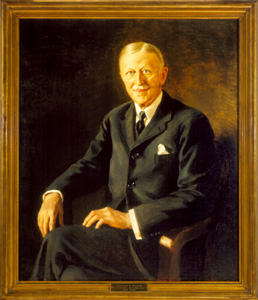 William H. Woodin was the first of two Treasury Secretaries to serve Frankin D. Roosevelt. Born in 1868, he graduated from Columbia University in 1890. He then served as general superintendent and later president of Jackson and Woodin Manufacturing Company, a railroad freight car manufacturer founded in 1840 with headquarters in Berwick, Pennsylvania. When it merged with 12 other companies as the American Car and Foundry Company in 1899, it was suddenly part of the largest manufacturer of its type in the eastern US. Woodin became its president in 1916. From 1927 through 1932, he was a director in the Federal Reserve Bank of New York.

A good friend of Roosevelt, Woodin helped the President to bring the nation out of the Depression by restoring confidence in the banking system following the March "Bank Holiday" and the establishment of the Federal Deposit Insurance Corporation (FDIC). He also played an important role in the formulation of the Gold Reserve Act of 1934, which devalued the dollar from $20.67 to $35 per ounce of gold and nationalized all gold within the country except for that used in jewelry, rare coin collections and dentistry.

Woodin resigned due to ill health and died in May 1934, just a few months after leaving office.