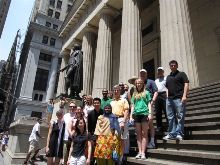 Wednesday, May 26, 2010 | 11:00 AM to 12:30 PM
Alexander Hamilton, first Secretary of the US Treasury, is also founder of the US Coast Guard. Join us for this and other fascinating facts about the history and impact of the maritime and commercial shipping industry on the rise of Wall Street. Tour meets at the Museum; $15 per person.
Please note that the Museum does not issue paper tickets to events and tours. If you purchase tickets, please print your receipt as your confirmation. Your name/s will be on our guest list the day of the event.