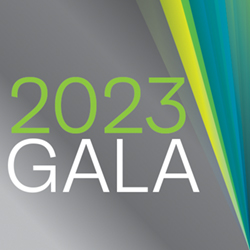 Monday, March 13, 2023 | 6:00 PM to 9:00 PM
Cipriani Midtown
110 East 42nd Street
New York City
The Museum of American Finance will honor the achievements of four financial leaders with important awards at its 2023 Gala. This year's Gala will resume as an in-person event, after two years of virtual Galas. CNBC Senior Markets Correspondent Bob Pisani and "WealthTrack" Executive Producer and Managing Editor Consuelo Mack will serve as masters of ceremony.
Robert Arnott, Founder and Chairman of the Board of Research Affiliates, will receive the Whitehead Award for Distinguished Public Service and Financial Leadership. This award honors leaders whose contributions in the public and private arenas strengthen society and the advancement of the financial industry. Vincent Viola, Co-Founder and Chairman Emeritus of Virtu Financial and former Chairman of the New York Mercantile Exchange, will receive the 2023 Financial Innovation Award. This award recognizes individuals who have transformed the financial services industry and demonstrated outstanding achievement in advancing entrepreneurship and free enterprise. A third award, the Museum of American Finance Lifetime Achievement Award, will honor the achievements of Mark Shenkman, Founder and President of Shenkman Capital Management and a long-time Museum of American Finance Trustee. A Special Recognition of Service will be presented to veteran financial journalist Carol Loomis, who retired as senior editor-at-large at Fortune magazine after a 60-year career at the magazine.
This year's Gala co-chairs include: William H. Donaldson (Former Chairman, Securities & Exchange Commission), William C. Dudley (Former President & CEO, Federal Reserve Bank of New York), Jim Fox (Vice Chair, Vinson & Elkins), Timothy C. Gokey (CEO, Broadridge), Ken Griffin (Founder & CEO, Citadel), William B. Harrison (Former Chairman & CEO, JPMorgan Chase), Katherine A. Rowe (President, William & Mary), Nick Studer (President & CEO, Oliver Wyman Group), Joseph Tarantino (President & CEO, Protiviti), Paul Taylor (President & CEO, Fitch Group), Jan van Eck (CEO, Van Eck Funds) and Gerald Walker (CEO, ING Americas).
Bloomberg Article: "NYC Finance Gala Projects 'Positive Calm' After Bank Stock Rout"