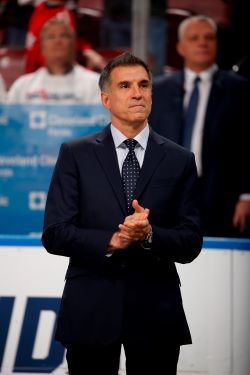 Vincent J. Viola | 2023 Financial Innovation Award Recipient

Vincent J. Viola is Co-Founder and Chairman Emeritus of Virtu Financial, one of the nation's foremost providers of financial technology products and services, and former Chairman of the New York Mercantile Exchange (2001-2004). As Chairman of the New York Mercantile Exchange (NYMEX), Mr. Viola's decisive leadership, guidance and untiring efforts were credited with leading NYMEX's reopening following the terrorist attacks on the World Trade Center on September 11, 2001. Mr. Viola's commitment to our nation's security led to his founding of the Combating Terrorism Center at West Point. An entrepreneur, philanthropist and veteran of the US Army, Mr. Viola is a Brooklyn, NY native and graduate of both the US Military Academy at West Point and New York Law School.
Mr. Viola is the Chairman, Owner and Governor of Sunrise Sports & Entertainment and the National Hockey League's Florida Panthers, as well as Chairman of the Florida Panthers Foundation. Under his leadership, investments in the local community and dedication to growing the game of hockey in Florida have transformed the team's on-ice performance leading to a 2021-22 Presidents' Trophy win for most regular-season points. Under Mr. Viola's stewardship, The Florida Panthers Foundation has refocused its mission to serving veterans, investing in youth education, conserving the endangered Florida panther and growing youth hockey with an emphasis on furthering diversity, inclusion and access to the game. A graduate of the US Army Airborne, Air Assault, Infantry and Ranger Schools, Mr. Viola served as an infantry officer in the 101st Airborne Division. His dedication to the US military led to his creation of the Florida Panthers' Heroes Among Us program, which has honored hundreds of veterans. Mr. Viola was recognized in 2021 by Sports Business Journal for his advocacy in diverse and inclusive hiring, and is one of four team owners on the NHL's Executive Inclusion Council to combat racism and accelerate diversity.
A life-long horse racing enthusiast and owner of St. Elias Stables, Mr. Viola owns the 2017 Kentucky Derby and Florida Derby-winning horse, Always Dreaming, and the 2019 Breeder's Cup Classic winner, Vino Rosso. He and his wife, Teresa, have three sons and several grandchildren.