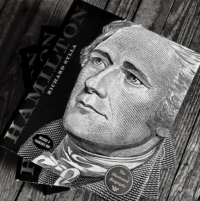 Tuesday, August 11, 2020 | 3:00 PM to 4:00 PM
In celebration of Hamilton: An American Musical coming to Disney+, Financial Narrative is hosting a conversation with Hamilton luminaries and thought leaders to talk about the man, the musical and the real story. Members and friends of the Museum are welcome to join this free virtual program featuring two of our Hamilton experts.
David Cowen – President & CEO of the Museum of American Finance, David has written extensively on US financial history and is the co-author of Alexander Hamilton on Finance, Credit, and Debt and Financial Founding Fathers: The Men Who Made America Rich.
Richard Sylla – Chairman of the Museum of American Finance and Professor Emeritus at the NYU Stern School of Business, Richard is the author of several books, including Alexander Hamilton: The Illustrated Biography
Stephen Tisdalle (moderator) – CMO of State Street Global Advisors
Stephen will lead a discussion of the life and influence of Alexander Hamilton, and what he means today.