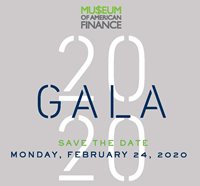 Monday, February 24, 2020 | 6:30 PM to 9:30 PM
Event Location:
Cipriani
55 Wall Street
New York City
The Museum of American Finance honored the achievements of financial leaders in both the public and private sectors with three important awards at its 2020 Gala.
The Schwab Award for Financial Innovation, which recognizes individuals who have introduced new markets or new financial instruments to our financial system, was presented to Dan Schulman, President and CEO of PayPal.
The Whitehead Award for Distinguished Public Service and Financial Leadership recognized the significant contributions of James P. Gorman, Chairman and CEO of Morgan Stanley.
A third award, the Museum of American Finance Lifetime Achievement Award, was introduced at the 2020 Gala and honored the achievements of Peter A. Cohen, Chairman and CEO of Andover National Corporation.
Download 2020 Gala Materials:
2020 MoAF Gala Program
2020 MoAF Gala Sponsors
For additional information, please contact Mindy Ross, Director of External Relations, at mross@moaf.org or 646-833-2755.