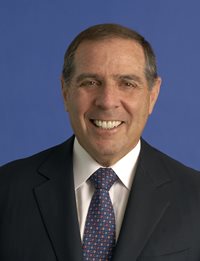 Peter A. Cohen | Chair

Peter A. Cohen is the founder of Peter Cohen LLC – an investment platform with holdings in technology and biotechnology companies, and an arbitrage fund. He is also the Chairman and Chief Executive Officer of Andover National Corporation, an investment company which is building a portfolio of environmental service businesses.
Until June 2018, he was Chairman and Chief Executive Officer of Cowen Inc., a 100-year-old investment bank that specializes in serving healthcare and technology companies. Cowen had been acquired in 2009 by Ramius Capital, a $13 billion alternative asset manager that was founded by Mr. Cohen in 1994. In the nine years after that transaction, Mr. Cohen oversaw the reinvigoration of Cowen's business through seven acquisitions and a diversification of the bank's revenue base. Entering 2018, he decided to turn over Cowen to his successor and devote all of his time to his investments.
From 1990-1994, Mr. Cohen worked with Republic New York Corporation, a bank holding company; launched an investment management firm; and represented companies in merger activities. He formed Republic New York Securities for Republic New York Corporation and served as Vice Chairman and board member of the holding company.
Mr. Cohen spent the prior two decades rising through the ranks of the firm that would eventually become Shearson Lehman Brothers. He joined Shearson in 1971 as an equity analyst, but soon transitioned to become assistant to then-Chairman and Chief Executive Officer Sandy Weill. Over the following years the firm made a series of acquisitions, culminating in its merger with American Express in 1981. By that time, Mr. Cohen had risen to President and Chief Operating Officer. He was named Chairman and Chief Executive Officer in 1983, and Shearson continued to make acquisitions throughout the decade, becoming Shearson Lehman Brothers. When Mr. Cohen departed in 1990, the firm had grown to 23,000 employees in 700 offices around the world.
Mr. Cohen has been fortunate to serve on the boards of numerous public companies and industry bodies based in the United States and overseas. He has been a board member of the New York Stock Exchange, the Depository Trust Company and the New York Federal Reserve's Capital Markets Advisory Committee. He has served on the boards of three defense contractors – GRC International, Titan International Corporation and L-3 Communications – as well as on the boards of other prominent US companies including American Express, Shearson Lehman Brothers and Kroll Inc. He also spent 30 years on the board of the Mount Sinai Medical Center in New York, was a member of the New York City Opera and continues to be a director of The Children's Hearing Institute.
Outside the United States, he was a board member of Société Générale de Belgique, the Belgium holding company; Cerus, a French investment company; Olivetti, an Italian office products company; Telecom Italia, the Italian national phone company; and CIR International, an Italian holding company. Today, he continues to be the Lead Director of Scientific Games Corporation, the largest US lottery operator and gaming-machine manufacturer and is on the board of a technology company and two bio-tech companies.
Mr. Cohen was the recipient of the Museum of American Finance Lifetime Achievement Award. He has been a member of the Museum's Board of Trustees since 2020 and currently serves as Board Chair.