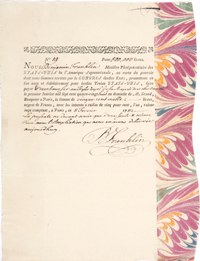 Wednesday, September 15, 2010 | 5:00 PM to 7:00 PM
Please join us for a reception and remarks to open "America's First IPO," an exhibition on the country's first public company, the Bank of North America, featuring some of the nation's most important founding financial documents. "America's First IPO" will occupy a new, prominently-located 1,500 sq. ft. gallery on the Museum's Grand Mezzanine level, and will include such unique pieces of American history as the earliest known bank check, the first Colonial American security and a certificate from the first US federal bond issue.
The opening reception is FREE and open to the public. For information and reservations, please contact Lindsay Seeger at 212-908-4110 or lseeger@moaf.org.