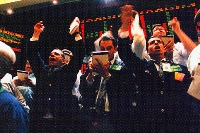 Wednesday, June 30, 2010 | 12:30 PM to 1:30 PM
Howard Hopkins, Director of Energy Products at CME Group, and Paul Hughes, Senior Analyst within Business Development for CME Group, will discuss the past, present and future of energy trading. They will provide an overview of pre-electronic energy trading, speak about the current status of the markets, and discuss the globalization of futures markets and CME Group.
Howard Hopkins
A veteran crude oil trader, Howard Hopkins began his career on the NYMEX trading floor as a runner in 1979, then went on to become a broker. In 2004, he was named the president of trading firm MK Brokerage. Howard has also worked as a vice president for Merrill Lynch Futures and ABN AMRO. He was a NYMEX member and served on the floor, adjudication, facilities, compliance and settlement committees. Howard joined NYMEX in 2007. He has a bachelor of arts degree in history from Fordham University and attended the masters in business administration at Pace University.
Paul Hughes
Paul Hughes joined the CME Group after it merged with the NYMEX in August 2008. He works with other members of the energy and metals team to identify and implement specific strategic alliances, investments, joint-ventures, and acquisition projects. Paul is responsible for a series of projects across various product groups, with a focus in energy/metals and CME ClearPort. Prior to joining CME Group, Paul worked for NYMEX since June 2007 in Corporate Development and Strategic Planning. He graduated with a degree in Finance from the Smith School of Business at the University of Maryland.
$5 tickets may be purchased at the door and include admission to the Museum. Feel free to bring your lunch. For information call Lindsay Seeger at 212-908-4110.