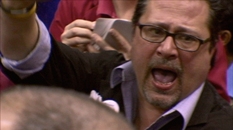 Floor trader Kenny Ford
Thursday, December 3, 2009 | 5:30 PM to 8:00 PM
Join us for a sneak peek screening of "Floored," a feature-length documentary about the up and down lives of traders. Screening will be followed by Q&A with Director James Allen Smith and reception. (Run time: 80 minutes)
About the Film
Enter a world where pandemonium reigns and reckless ambition rules: the trading floors in the financial canyons of downtown Chicago. Here, men use strange hand signals to buy and sell everything from pork belly to soybeans while wearing the weight of our complex economy on their shoulders — along with their neon jackets. It's a physical, bruising place, one where a slight gain creates heroes, rich beyond what their high school educations should ever afford. But the wrong move on the wrong day can ruin lives. In "Floored," Director James Allen Smith not only penetrates this cult-like profession and its closely held customs; he introduces the audience to the men behind the mayhem. Though arguably certifiable, they're also a likable bunch where no party is too big and no risk too great.
Though traders must possess lightening-fast reactions and guts of steel, degrees or Ivy League educations aren't required. Most live and die by their wits and instincts alone. It's a way of life, of ego and excess that can't be found anywhere else — but it's disappearing like so many parts of our increasingly digitized world. The advent of computerized trading has forced many traders to make a sobering choice: adapt or get out. Smith captures their stories in a way that illuminates not just the traders' triumphs and struggles, but also something about our shared humanity and stake in the future. At a time when millions have lost fortunes in the fickle stock market and fear abounds about the faltering financial system, "Floored" is a gripping, honest look behind the curtain of the trading floor that few have ever seen.
Tickets cost $15 per person, or are free for Museum members. For reservations, please contact Lindsay Seeger at 212-908-4110 or lseeger@moaf.org. For more information on the film, including links to articles and clips, please visit www.FLOOREDmovie.com.