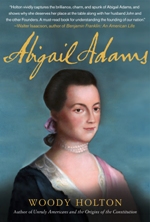 Tuesday, November 17, 2009 | 12:30 PM to 1:30 PM
Thomas Jefferson died so deep in debt that his beloved estate, Monticello, had to be sold to satisfy his creditors. James Madison also left behind mounds of financial obligations. But John Adams, the man Jefferson turned out of the White House in 1801, died rich and debt-free – despite sharing his predecessor's careless attitude toward money. What was his secret?
His wife.
In Abigail Adams, award-winning historian Woody Holton reveals that Abigail had an unprecedented role in controlling the family's finances – and was remarkably savvy for her time.
Woody Holton is associate professor of history at the University of Richmond in Virginia and the recipient of a coveted Guggenheim fellowship for Abigail Adams. His first book, Forced Founders, received the prestigious Merle Curti Award for social history from the Organization of American Historians; Unruly Americans and the Origins of the Constitution was a finalist for the National Book Award.
$5 tickets may be purchased at the door and include admission to the Museum. Talk will be followed by a book sale and signing. Feel free to bring your lunch.