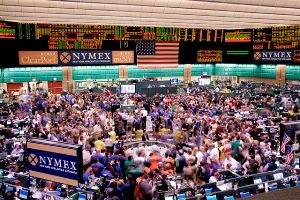 Commodities trading pit, courtesy CME Group
Wednesday, August 12, 2009 | 12:30 PM to 1:30 PM
A representative from the CME Group will present an interactive demonstration of open out cry trading.
Open out cry is a method of trading on a commodity exchange that uses verbal bids and offers in the trading pits. A contract is made if one trader cries out that he wants to sell at a certain price, and then another trader yells out that he will buy at that same price.
About the CME Group
Building on the heritage of CME, CBOT and NYMEX, CME Group serves the risk management needs of customers around the globe. They provide the widest range of benchmark futures and options products available on any exchange, covering all major asset classes. During the second quarter of 2008, CME Group merged its two Chicago trading floor operations to a single location in the historic Chicago Board of Trade Building. Open outcry trading of energy and metals is conducted on CME Group's New York trading floor.
Join us as we explore the vibrant activity that exists on these trading floors and learn about this method of trading. You will also learn more about CME Group's electronic trading platform, Globex.
$5 tickets may be purchased at the door and include admission to the Museum. Feel free to bring your lunch.