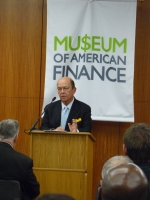 Wednesday, January 21, 2009 | 5:30 PM to 7:00 PM
Wilbur Ross, CEO of WL Ross & Co. LLC, may be one of the best known private equity investors in the U.S. His private equity funds bought Bethlehem Steel and several other bankrupt producers and revitalized them into the largest U.S. producer before merging them into Mittal Steel for $4.5 billion. Mr. Ross remains a Director of what is now ArcelorMittal, the world's largest steel company. He also created and chairs International Coal Group; International Textile Group, the most global American company in that industry; and International Auto Components Group, a $4.5 billion producer of instrument panels and other interior components, operating in 17 countries; Compagnie Europeenne de Wagons Sarl, the largest rail car leasing company in Europe, and American Home Mortgage Servicing Inc., the second largest servicer of subprime mortgages.
Mr. Ross was Executive Managing Director of Rothschild Inc. for 24 years before acquiring that firm's private equity partnerships in 2000. He is a Board Member of the Whitney Museum of American Art, Yale University School of Management, Japan Society, Partnership for New York City, Palm Beach Civic Association, Business Roundtable, Harvard Business School Club of New York, the Committee on Capital Markets Regulation, the Harvard University Committee on University Resources and the Chairman's Council of the U.S./India Business Council. President Kim Dae Jung awarded him a medal for his assistance in Korea's financial crisis, President Clinton appointed him to the Board of the U.S.-Russia Investment Fund and he served as Privatization Advisor to New York City Mayor Rudy Giuliani. China Institute has presented him with its Blue Cloud Award. Mr. Ross formerly served as Chairman of the Smithsonian Institution National Board. He is a graduate of Yale University and of Harvard Business School (with distinction).
Mr. Ross will provide a review of President Obama's proposed domestic and international economic initiatives, assess them, and compare them with those of the Bush administration.
Reservations required. To attend this event, or for additional information, please contact Lindsay Seeger at 212-908-4110 or lseeger@financialhistory.org.