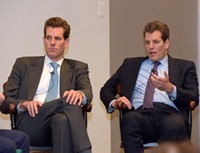 Tuesday, February 27, 2018
6:00 PM to 8:15 PM
Join us for a balanced perspective on the potential and pitfalls of blockchain technology and the future of crypto investment. The program will begin with a fireside chat with Ethereum Co-Founder Joseph Lubin and Michael Casey, MIT Digital Currency Labs and Chair of the CoinDesk Advisory Board, including a discussion of the World Food Program's Ethereum-based refugee food distribution project. A panel will follow addressing the broad applications of blockchain technology and its transformative potential, and exploring cases and existing projects that utilize decentralized economic models.
PLEASE NOTE: This event is sold out. Please check back in mid-February, as another block of tickets may open. Due to a flood in the Museum, this event will be held at Fordham University, Lincoln Center Campus, 150 West 62nd Street, Costantino Room, 2nd Floor.
Upcoming Events and Tours
Walking Tour: Women of Wall Street
Thursday, March 22, 2018 - 11:00 AM

Discover the female power brokers who have shaped the history of Wall Street in this 90-minute guided walking tour of the Financial District.

George Robb on "Ladies of the Ticker"
Thursday, March 22, 2018 - 12:30 PM

Join us for a lunchtime program with George Robb on his new book about women and Wall Street, from the Gilded Age to the Great Depression.

Please note: Due to a flood in the Museum, this event will be held on the 5th Floor of 48 Wall Street. MoAF staff will be on hand to direct attendees.