Grade Levels: College, Adult
Program Duration: 1 hour
Booking Type: Special Request
Price: $500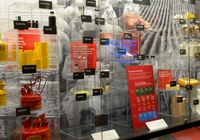 Join us for a look at the fascinating history of derivatives in this hour-long presentation. Many people today think derivatives are inventions of modern finance, but history shows that derivatives are actually thousands of years old. Early derivatives provided simple solutions necessary for the fundamental developments of civilization. These solutions stabilized the agricultural production cycle, enabled long distance trade of goods and resulted in the diffusion of ideas across the globe. Explore the cycle of unrestrained growth and the ultimate collapse of derivative markets through the ages. Discuss the challenges governments face each cycle as they must balance economic growth, market stability and ultimately counter party risk. This presentation is meant to complement the educational institution's teaching of modern uses.