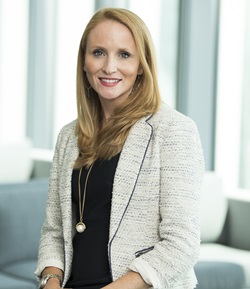 Lauren Post

Lauren Post is a Senior Director of Corporate Communications and PR at TIAA, a leader in retirement and financial services. In this role, Ms. Post creates and implements key external communications initiatives, manages corporate reputational issues with media and works with Tier 1 media to proactive build the TIAA brand. She is also responsible for media relations activities in support of the Office of the CEO including focus areas across Retirement, Employer Brand and Digital innovations.
Prior to joining TIAA in April 2016, Ms. Post was the Vice President of Corporate Communications for Allied World Assurance Company, a global specialty insurance provider. In this role, she was responsible for all global strategic communications planning for Allied World's offices in the United States, Bermuda, Europe and Asia - with a focus on media relations, executive communications, internal communications, social media and corporate CSR.
Prior to joining Allied World in April 2015, Ms. Post spent eight years on the BlackRock Corporate Communications team creating and implementing strategic external communications initiatives tied to the Company's five year brand building investment, securing top tier interviews for key BlackRock executives (CEO, President, CFO, CIO, etc.) in major national, business, personal finance and trade publications and partnered with senior business leaders to fully maximize communications strategies to support the strategic objectives of the company across businesses including Corporate, Retail and iShares.
Ms. Post graduated from the University of Delaware in 2006 with a Bachelors of Arts Degree in English with a concentration in Business & Technical Writing. She also earned a minor in Organizational and Community Leadership. Ms. Post is the Vice President of the Board of Directors of Miracle Express, a NJ-based non-profit focused on helping families experiencing life's toughest challenges, and a member of the Public Relations Society of America. She is a member of the Museum's Communications Executives Advisory Panel.