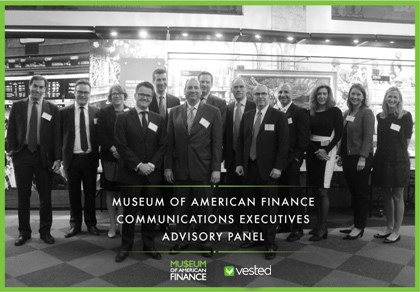 The Museum of American Finance Communications Executives Advisory Panel brings together the communications and marketing leaders from America's top financial institutions and serves as a forum to collaborate with the Museum as it pursues closer ties with, and opportunities to add greater value to, the Wall Street community. The panel is co-chaired by David Cowen, president/CEO of the Museum of American Finance, and Dan Simon, CEO of Wall Street communications firm, Vested.
Strategies developed through the Advisory Panel serve to complement each organization's communications and marketing plan. The Museum further provides an educational platform for showcasing those issues critical to the relationship between Wall Street, its target markets and the public. The Advisory Panel also serves as an invaluable networking opportunity for its members across the various sectors of the financial services industry. Membership on the Communications Executives Advisory Panel is by invitation only. Meetings are held quarterly on the Grand Mezzanine of the Museum of American Finance.
Participating firms and organizations include:
Accenture, AIG, Ally, Anthemis, APG Asset Management, Bank of America, Betterment, Bloomberg, Broadridge, Capco, Citadel, Citi, CME Group, Credit Suisse, Deutsche Asset Management, DTCC, Enso Financial Analytics, eVestment, the Federal Reserve of New York, Financial Communications Society, First Data, First Investors Corporation, Fitch Group, Goldman Sachs, Golub Capital, Gramercy Institute, ICAP, ING, Investopedia, Macquarie Bank, Mastercard, MetLife, Moody's, Morgan Stanley, MUFG Union Bank, Nasdaq, New York Life, New York Stock Exchange, OppenheimerFunds, PayCommerce, PineBridge Investments, Point72 Asset Management, Protiviti, Rockefeller & Co., Roundtable Partners, Santander, S&P Dow Jones, TIAA, UBS Americas, Voya and WorldRemit.