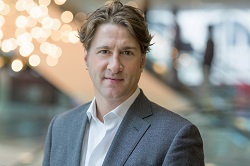 Ethan McCarty

Ethan McCarty is the Global Head of Employee and Innovation Communications for Bloomberg LP. Ethan leads a team of Employee and External Communications professionals who activate, inform and enable Bloomberg's 17,000+ employees worldwide. Externally, Ethan's team tells Bloomberg's innovation story through our people, our workplaces and the technologies in our products.
Before joining Bloomberg, Ethan was Director of Strategic Consulting and Integration for IBM's World Wide Marketing and Communications Labs, where he led the team that identified the right kind of work to pull through IBM's worldwide network of Labs, integrated IBM's disciplines behind that work and ensured teams around the world used the best practices that emerged in design, digital communications and modern marketing.
Ethan has a master's degree from the New School for Social Research in New York City and a bachelor's degree in Creative Writing from Ohio University. He is a member of the Museum's Communications Executives Advisory Panel.