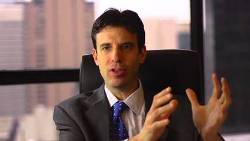 Jason A. Farago

Jason A. Farago is Head of Marketing & Communications, Alternatives & Real Assets for Deutsche Asset & Wealth Management's $86 billion global investment platform for real estate, infrastructure, liquid real assets and sustainable investments. In that role he establishes marketing strategy for those investment segments, working across other business lines to identify tactics that position the firm appropriately and help market its investment strategies and solutions. Before that he was Head of Insurance & Institutional Client Marketing.
Prior to joining Deutsche Asset & Wealth Management in 2010, Mr. Farago was a Managing Director at the Securities Industry and Financial Markets Association (SIFMA), the financial services industry's largest trade and lobbying association, leading marketing communications activities. Before that he spent more than 6 years as Director of Corporate Communications at Lord Abbett, a private, mid-size investment management company, serving as spokesperson and responsible for creating and implementing public relations and other communications strategies. Mr. Farago was a leading member of the firm's integrated marketing team.
Previous to Lord Abbett, Mr. Farago spent nearly five years at Lehman Brothers, where he was Deputy Director of U.S. Corporate Communications, handling media relations and marketing communications for much of the investment bank's domestic and international capital markets and investment banking activities, including crisis and internal communications. Before Lehman Brothers, Mr. Farago spent two years as an associate with public relations and marketing communications boutique, River Communications, specializing in financial services. He began his communications career as a production associate at ESPN and part of the team that developed the popular SportsCenter program.
A speaker on public relations and communications topics, Mr. Farago has more than a decade of experience in financial services communications. He earned a Master of Arts degree in Public Communications from Fordham University, and graduated with honors from Marist College with a Bachelor of Arts degree in Communications. He is a member of the Museum's Communications Executives Advisory Panel.