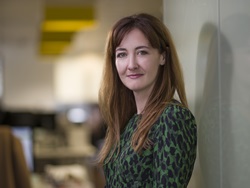 Leslie Campisi

Leslie Campisi is Chief Marketing Officer of Anthemis Group, a venture investment and advisory firm reinventing financial services for the digital world. At Anthemis, Leslie leads the team tasked with growing the firm's reputation among investors, clients, partners and entrepreneurs around the world. Prior to joining Anthemis, Leslie was Senior Vice President, Digital Practice Lead at MSLGROUP, Publicis Groupe's strategic communications and engagement agency, where she led the team that developed and implemented forward-thinking, integrated digital programs for clients, including PayPal.
In 2012, Leslie launched European technology communications consultancy Hotwire in North America, where she served as a member of the global leadership team. As Managing Director, US, Leslie spearheaded the growth of Hotwire's offices in New York City and San Francisco. In 2014, Hotwire was honored by The Holmes Report as Best Technology PR Agency Worldwide.
Leslie's integrated campaigns have won numerous awards from industry publications and associations including PRSA, PR News, The Holmes Report and BtoB Magazine (Advertising Age). In 2015, she was named as one of the 100 Most Influential Tech PR Executives Globally by UK publication Hot Topics and was recently noted as one of 50 Women in Marketing to Watch by SEO Journal.
A Louisiana native, Leslie is a graduate of Loyola University New Orleans and The New School, where she received a Master of Fine Arts in Creative Writing. She is a member of the Museum's Communications Executives Advisory Panel.