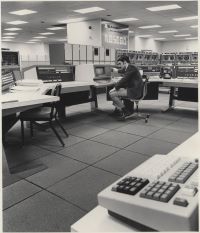 Photo of the Bunker-Ramo Data Center for Nasdaq, 1971
In commemoration of its 50th anniversary, Nasdaq today launched a digital exhibit, in partnership with the Museum of American Finance (MoAF), showcasing artifacts and stories representing the history of the company, the evolution of financial technology, data and trading systems, and landmark events that highlight Nasdaq's impact on the global capital markets ecosystem.
"In the 50 years since Nasdaq's founding, the world and capital markets have evolved dramatically," said Adena Friedman, President and CEO, Nasdaq. "What started as the world's first electronic equities quotation system has transformed into a global technology company that serves not only the capital markets but markets everywhere. The success of our future relies heavily on our commitment to embracing inclusive growth, empowering the next generation of entrepreneurs and driving innovation that moves the global economy forward."
Nasdaq was founded in 1971 as the world's first fully electronic quotation system. Over the next 50 years, the company built and acquired businesses spanning listings, market services, indexes, data and analytics and market technology, all of which have played a central role in advancing the financial industry worldwide. Today, Nasdaq is a global technology company that operates among the largest financial markets in the world, and its technology powers more than 130 marketplaces. It is also the home to innovation, with the five largest US companies listed on Nasdaq.
"By inventing the first fully electronic market, Nasdaq is not only a true innovator in the field of finance, but also in the history of science and technology," said MoAF President and CEO David Cowen. "For the company's 50th anniversary exhibit, the Museum of American Finance is proud to provide the historical research that captures five decades of Nasdaq's crucial role in leading the evolution of the financial markets."
MoAF is the nation's only independent museum dedicated to finance and financial history education through exhibits, financial literacy programs and public events. This project represents the Museum's first full-scale, all-digital partnership, and was created in partnership with Heritage Werks.
Media contact:
Kristin Aguilera, Deputy Director
Museum of American Finance
kaguilera@moaf.org