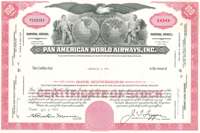 New York, NY – The Museum of American Finance, an affiliate of the Smithsonian Institution, today announced it has partnered with Scripophily.com, an historical document dealer, to provide free stock certificates for participants on the Museum's tours and educational programs, including its new classic car tours of Downtown New York in partnership with Nowaday.
These authentic historical stock certificates conveyed real economic value in a pre-digital age. Many of the businesses featured on the certificates were central to economic and political change in the United States. Due to the computer age, more and more stock and bonds are issued electronically, which means fewer paper certificates are being issued. As a result, the supply of paper certificates is decreasing.
"The Museum of American Finance uses authentic financial certificates to engage the public and educate visitors about financial products and the social benefit they support," said David Cowen, the Museum's president. "Scripophily.com CEO Bob Kerstein is dedicated to helping people appreciate the importance of finance and are committed to helping us fulfill our educational mission."
"Scripophily" is the hobby of collecting authentic stock and bond certificates. The term is derived from the English and Greek words "scrip" (an ownership right) and "philos" (to love). Many collectors appreciate the historical significance of the certificates, while others admire the beauty of the documents, which were printed in various colors with detailed engraved artwork designed to prevent counterfeiting.
About the Museum of American Finance
As a socially relevant organization, the Museum of American Finance seeks to improve understanding of the influence of financial institutions and capital markets on the US and global economies, and on individuals' lives. The nation's only independent museum dedicated to finance and financial history educates the public through exhibits, financial literacy programs and public events. The Museum, an affiliate of the Smithsonian Institution, seeks to empower individuals of all backgrounds to strive toward financial independence, while encouraging curiosity and discovery. For more information, visit www.moaf.org or connect with the Museum on Facebook or Twitter.
About Scripophily.com
Scripophily.com/Old Company Research Service is the successor company to R.M. Smythe stock research service, and the Herzog & Co., Inc. obsolete stock research services. These services have been performed continuously for over 140 years since 1880. Scripophily.com and Old Company Stock Research Services was founded by Bob Kerstein (Bob.us). Bob is a CPA and CGMA, and has more than 42 years of senior management experience in the Cellular, Cable TV, Satellite, Internet, Professional Sports and Entertainment Industries. He is also the president of the Professional Scripophily Traders Association (PSTA) and a director of the International Bond and Share Society. Bob is also a member of the AICPA, Chartered Global Management Accountants, California Society of CPAs and the Virginia Society of CPAs. For more information, visit www.scripophily.com or call 703-787-3552.
Media Contact:
Kristin Aguilera, Deputy Director
Museum of American Finance
kaguilera@moaf.org