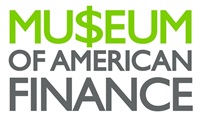 New York, NY – The Museum of American Finance (MoAF) announced today that it has terminated its lease at 48 Wall Street in New York City. The Museum, an affiliate of the Smithsonian Institution, had been located in this historic bank building since 2008, and its lease was scheduled to expire in 2021.
The lease termination was prompted by a major flood that occurred on January 14, 2018, when a main water pipe burst in the building. Although all three floors of the Museum sustained significant water damage, none of the objects on display or in the archives were damaged in any way. The Museum's world-class collection of financial documents and artifacts, many dating from the 18th century, was immediately relocated to a climate controlled art storage facility, where it remains safe.
Despite the Museum gallery being closed in 2018 due to the flood, nearly all of its programs proceeded as scheduled at off-site locations. This included more than a dozen public programs in its Lunch & Learn and Evening Lecture Series, as well as a traveling exhibit in Washington, DC, showcasing treasures from the Museum's collection. The Museum also continued to offer guided walking tours of the Financial District and proceeded with key components of its educational programming, including the Museum Finance Academy (MFA) – its free eight-week personal finance program for high school juniors and seniors. Although the exhibit galleries will remain closed during the relocation, all of the Museum's other programs will continue off site. In addition, new education programs will be added in 2019, bringing MoAF educators into New York City area schools.
According to MoAF President/CEO David Cowen, "We were looking to relocate the Museum in a few years given that our lease was expiring, so this was a natural time to discuss moving up the timetable."
The early termination of the lease enables the Museum to explore new venue and partnership opportunities, and to re-build all of the exhibitions from the ground up.
"Our opportunities are now open-ended, as we reimagine what a state-of-the-art finance museum could be," said Cowen. "I look forward to working with our board, staff and supporters as we script this exciting future for the nation's only independent finance museum."
About the Museum of American Finance
The Museum of American Finance, an affiliate of the Smithsonian Institution, is the nation's only independent museum dedicated to preserving, exhibiting and teaching about American finance and financial history. With its extensive collection of financial documents and objects, its seminars and educational programming, its publication and oral history program, the Museum portrays the breadth and richness of American financial history, achievement and practices. For more information, visit www.moaf.org or connect with the Museum on Facebook or Twitter.
Media Contact:
Kristin Aguilera, Deputy Director
Museum of American Finance
212-908-4695, kaguilera@moaf.org
# # #