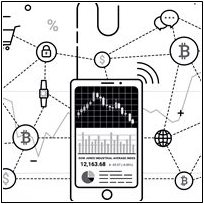 New York, NY – On November 14, the Museum of American Finance will present "Democratizing Finance: Expanding Access through FinTech," a timely program that will discuss the transformation in the financial services industry – connecting people to affordable financial services anywhere and at any time – that is expected to generate economic growth and help reduce income inequality. The program will be held from 6:00 – 8:30 pm at The Paley Center for Media at 25 West 52nd Street, NYC.
The evening will begin with a fireside chat featuring PayPal President & CEO Dan Schulman and program moderator Brian Sozzi, Editor-at-Large, Yahoo! Finance, including a discussion of the impact of the revolution in financial services brought by the digitization of money and the proliferation of internet access and mobile phones. A panel discussion will follow addressing the broad implications of financial technology on consumers and society at large.
Panelists include:
Andrew Keys, Co-Founder, ConsenSys Capital
Aditya Khurjekar, Founder & CEO, MEDICI
Jennifer Tescher, President & CEO, Center for Financial Services Innovation
"Democratizing Finance: Expanding Access through FinTech" is co-sponsored by Protiviti and TIAA with Thisis212 (media sponsor). It is presented by the Museum of American Finance, in partnership with the Fordham University Gabelli Center for Global Security Analysis. More information on this program can be found at www.moaf.org/democratizingfinance. Join the conversation at #DemocratizingFinance.
Media Access: A limited number of press passes are available for this event. Working members of the press interested in attending should RSVP by November 12 to Kristin Aguilera at kaguilera@moaf.org.
About the Museum of American Finance
The Museum of American Finance, an affiliate of the Smithsonian Institution, is the nation's only independent museum dedicated to preserving, exhibiting and teaching about American finance and financial history. With its extensive collection of financial documents and objects, its seminars and educational programming, its publication and oral history program, the Museum portrays the breadth and richness of American financial history, achievement and practices. For more information, visit www.moaf.org or connect with the Museum on Facebook or Twitter.
Media Contact:
Kristin Aguilera, Deputy Director
Museum of American Finance
212-908-4695, kaguilera@moaf.org