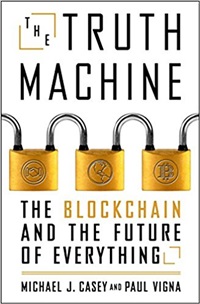 New York, NY – On February 27, the Museum of American Finance will present "The Blockchain and the Future of Everything," a timely program that will provide a balanced perspective on the potential and pitfalls of the technology and the future of crypto investment. The program will be held from 6:00 – 8:15 pm at Fordham University, 150 West 62nd Street, Costantino Hall.
The evening will begin with a fireside chat featuring Ethereum Co-Founder Joseph Lubin and Michael Casey, MIT Digital Currency Labs and Chair of the CoinDesk Advisory Board, including a discussion of the World Food Program's Ethereum-based refugee food distribution project. A panel discussion will follow addressing the broad applications of blockchain technology and its transformative potential, and exploring cases and existing projects that utilize decentralized economic models
Panelists include:
Cameron Winklevoss, President, Gemini
Tyler Winklevoss, CEO, Gemini
Joshua Brown, CEO, Ritholtz Wealth Management
Paul Vigna (moderator), Reporter, The Wall Street Journal
"The Blockchain and the Future of Everything" is sponsored by ING (program sponsor) and Investopedia (media sponsor). It is presented by the Museum of American Finance, in partnership with the Fordham University Gabelli Center for Global Security Analysis. This event also marks the launch of Casey and Vigna's new book, The Truth Machine: The Blockchain and the Future of Everything.
More information on this program can be found at www.moaf.org/blockchain. Join the conversation at #BlockchainTechChat.
Media Access: A limited number of press passes are available for this event. Working members of the press interested in attending should contact Deputy Director Kristin Aguilera at kaguilera@moaf.org.
About the Museum of American Finance
The Museum of American Finance, an affiliate of the Smithsonian Institution, is the nation's only independent museum dedicated to preserving, exhibiting and teaching about American finance and financial history. With its extensive collection of financial documents and objects, its seminars and educational programming, its publication and oral history program, the Museum portrays the breadth and richness of American financial history, achievement and practices. For more information, visit www.moaf.org or connect with the Museum on Facebook or Twitter.
Media Contact:
Kristin Aguilera
Museum of American Finance
212-908-4695, kaguilera@moaf.org
# # #