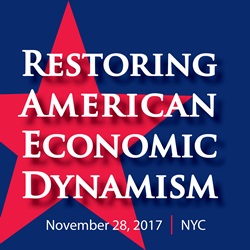 New York, NY – On Tuesday, November 28, the Museum of American Finance will host a ground-breaking symposium, "Restoring American Economic Dynamism: New Solutions for America's Productivity Slowdown," offering fresh ideas on how to bring back American prosperity and growth. The full-day symposium will be presented in partnership with the CFA Institute Research Foundation and S&P Global, with the McKinsey Global Institute as an additional knowledge partner. It will address the true economic challenges facing America and will expand the policy choice set to include new ideas about how to restore American economic vitality. The conference agenda can be found here.
WHO: More than a dozen high-profile economists, policy makers and scholars will participate, including:
David Adler (organizer), Author, The New Economics of Liquidity and Financial Frictions (CFA Institute Research Foundation)
David Blitzer, Managing Director and Chairman of the Index Committee, S&P Dow Jones Indices
Dan Breznitz, Professor and Munk Chair of Innovation Studies, University of Toronto
Susan Helper, Case Western; Former Chief Economist, US Dept. of Commerce and White House staff member
Susan Houseman, Vice President and Director of Research, Upjohn Institute for Employment Research
Lord Mervyn King, Governor of the Bank of England (2003-2013)
Anton Korinek, Department of Economics, Johns Hopkins University
Robert Lerman, Fellow, Urban Institute
Edmund Phelps, Nobel Prize in Economics; Director of the Center on Capitalism and Society, Columbia University
Thomas Philippon, New York University; Winner of the Bernácer Prize for Best European Economist Under 40
Jaana Remes, Partner, McKinsey Global Institute
Laurence Siegel (co-organizer), Director of Research, CFA Institute Research Foundation
Dane Stangler, Director of Policy Innovation, The Progressive Policy Institute (PPI)
Chad Syverson, J. Baum Harris Professor of Economics, The University of Chicago
WHEN: Tuesday, November 28, from 9:30 am – 6:00 pm (doors open at 9:00 am)
WHERE: Museum of American Finance, 48 Wall Street (corner of William Street), NYC
ADDITIONAL DETAILS: Press passes will be issued for this symposium. For media access, please contact Kristin Aguilera at kaguilera@moaf.org. Continental breakfast and lunch will be served. A reception will follow speaking program, from 5:00 – 6:00 pm. More information can be found at www.moaf.org/2017symposium.
About the Museum of American Finance
The Museum of American Finance, an affiliate of the Smithsonian Institution, is the nation's only independent museum dedicated to preserving, exhibiting and teaching about American finance and financial history. With its extensive collection of financial documents and objects, its seminars and educational programming, its publication and oral history program, the Museum portrays the breadth and richness of American financial history, achievement and practices. Visit www.moaf.org or connect with the Museum on Facebook or Twitter.
Media Contacts:
Kristin Aguilera
Museum of American Finance
212-908-4695, kaguilera@moaf.org
Emma Clarke
Vested
917-765-8720, moaf@fullyvested.com