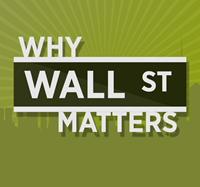 New York, NY – The Museum of American Finance has launched a new monthly video series featuring 10 CEOs from across the financial industry discussing "Why Wall Street Matters" from their individual perspectives. The CEO Series is a collaboration between the Museum and Cheddar, a live and on demand news network covering technology, media and entertainment, which broadcasts daily from the floor of the New York Stock Exchange.
The first CEO video in the series debuted in September on the Museum's YouTube channel, as well as Cheddar's website and across both organizations' social media platforms. Each month, the featured CEO will appear on Cheddar's Opening Bell show as well.
According to David Cowen, president of the Museum of American Finance, the need for the general public to understand our financial systems has never been greater. "The CEO Series will help us broaden awareness of the power of finance and the capital markets as drivers of the economy," he said.
The CEOs participating in this series are:
Ellen Alemany, CEO of CIT (May 31, 2018)
Adena Friedman, CEO of Nasdaq (June 14, 2018)
Michael Corbat, CEO of Citi (June 28, 2018)
Cheddar CEO and Founder Jon Steinberg, said, "The Museum of American Finance is the educational and historic institution of record in the industry. We are so proud to bring this video series to the public and work with their team."
About the Museum of American Finance (www.moaf.org)
The Museum of American Finance, an affiliate of the Smithsonian Institution, is the nation's only independent museum dedicated to preserving, exhibiting and teaching about American finance and financial history. With its extensive collection of financial documents and objects, as well as its seminars, events, educational programming and publications, the Museum portrays the breadth and richness of American financial history, achievement and practices. The Museum is located in an historic bank building at 48 Wall Street, on the corner of William Street, in New York City.
About Cheddar (www.cheddar.com)
Cheddar is a live and on demand video news network focused on covering the most innovative products, technologies and services transforming our lives. The network covers this news through the lens of the companies and executives driving these changes. A unique and live approach to news in technology, media and entertainment, Cheddar is broadcast daily from the floor of the New York Stock Exchange, with exclusive CEO and founder interviews, and profiles of the technologies and companies transforming our lives.
Media Contacts:
Kristin Aguilera
Museum of American Finance
212-908-4695, kaguilera@moaf.org
Binna Kim
Vested
917-765-8720, moaf@fullyvested.com