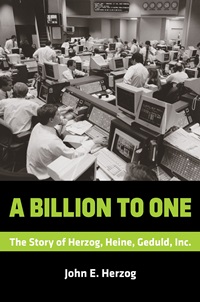 New York, NY – The Museum of American Finance today announced the release of a new book by its Founder and Chairman Emeritus, John E. Herzog, on the history of the legendary Wall Street firm his family founded. A Billion to One: The Story of Herzog, Heine, Geduld, Inc. will be available on June 13, 2017.
Herzog's route to building a securities trading behemoth started modestly, when his grandfather, walking the teeming streets of Manhattan's Lower East Side, began trading currencies. His father, Robert, joined these walks and learned how to earn a modest "spread" changing notes and handling remittances for newly-arrived emigres.
Robert apprenticed at a bank where his aptitude for figures and entrepreneurial yearnings led him to abandon a dependable $50 monthly wage for his first partnership. Rapid changes made him a sole proprietor very quickly, beginning a struggle just to stay in business. The family firm had survived more than prospered in 1959, when John accepted his father's invitation to join the four others on the staff of Herzog & Co. Opportunity was elusive as he struggled to find business and develop a specialty. On a typical day, the firm made only four or five trades.
John's most significant deal was convincing two similarly-principled brothers to put their doughnut business on hold to develop their trading careers at Herzog & Co. The very talented Irwin and Buzzy Geduld worked with John to build a company with the ability and culture ideally suited to an expanding national trading opportunity. With a long list of company shareholders, the exquisitely timed sale of Herzog, Heine, Geduld to Merrill Lynch in 2000 provided the ultimate reward.
This intimate memoir would be more believable had it not happened on Wall Street. It's an unconventional story about integrity, not greed, where wrongs are quickly righted and fairness is never mistaken for generosity. For Herzog, the reward is sharing success with all who made it possible, and his story tells us how that happened.
Kirkus Reviews said A Billion to One is "an expert insider's account of the securities industry that should interest active investors… The author's insights into the industry itself are trenchant, and especially welcome in the wake of another seismic change in the regulatory landscape."
BOOK LAUNCH EVENT: In honor of the release of A Billion to One, the Museum will host a launch party on June 27, from 5:30 - 7:00 pm. Working members of the press are invited to attend. For more information, or to RSVP, please contact Deputy Director Kristin Aguilera at kaguilera@moaf.org.
About the Museum of American Finance
The Museum of American Finance, an affiliate of the Smithsonian Institution, is the nation's only independent museum dedicated to preserving, exhibiting and teaching about American finance and financial history. With its extensive collection of financial documents and objects, as well as its seminars, events, educational programming and publications, the Museum portrays the breadth and richness of American financial history, achievement and practices. The Museum is located in an historic bank building at 48 Wall Street, on the corner of William Street, in New York City.
Media Contact:
Kristin Aguilera, Deputy Director
Museum of American Finance
212-908-4695, kaguilera@moaf.org