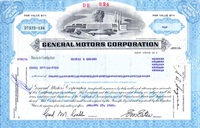 New York, NY – The Museum of American Finance, an affiliate of the Smithsonian Institution, today announced it has partnered with two historical document dealers on an educational program to place primary source documents in local classrooms. Scripophily.com and Scott J. Winslow Associates, Inc. will sponsor free stock certificates for social studies teachers throughout the New York area.
Teachers are invited to request up to five certificates free of charge for use in their classrooms. These authentic historical stock certificates conveyed real economic value in a pre-digital age. As such, they can be use as primary documents to engage students.
"The Museum of American Finance uses authentic financial certificates to engage the public and educate visitors about financial products and the social benefit they support," said Chris Meyers, the Museum's Director of Education. "Scripophily.com CEO Bob Kerstein and Scott Winslow are dedicated to helping students appreciate the importance of finance and are committed to helping us fulfill our educational mission."
Many of the businesses featured on the certificates were central to economic and political change in the United States. New York recently updated the social studies scope and sequence guide for the first time in nearly 30 years, making these certificates all the more relevant to the curriculum.
"Scripophily" is the hobby of collecting authentic stock and bond certificates. The term is derived from the English and Greek words "scrip" (an ownership right) and "philos" (to love). Many collectors appreciate the historical significance of the certificates, while others admire the beauty of the documents, which were printed in various colors with detailed engraved artwork designed to prevent counterfeiting.
PROGRAM DETAILS: The free stock certificate program will run from November 18, 2016 through January 18, 2017. To request a free kit, teachers should e-mail the following information to cmeyers@moaf.org: teacher's name, school name and address, grade/s taught, number of students, subject/s taught and contact e-mail address. Historical stock certificates will be shipped after the program concludes.
About the Museum of American Finance
The Museum of American Finance, an affiliate of the Smithsonian Institution, is the nation's only independent museum dedicated to finance, entrepreneurship and the open market system. With its extensive collection of financial documents and objects, its seminars and educational programming, its publication and oral history program, the Museum portrays the breadth and richness of American financial history, achievement and practices. The Museum is located at 48 Wall Street. For more information, visit www.moaf.org or connect with the Museum on Facebook, Twitter or Instagram @FinanceMuseum.
About Scripophily.com
Scripophily.com was founded by Bob.com Kerstein, a CPA with over 39 years of senior management experience in the Cellular, Cable TV, Satellite, Internet, Professional Sports and Entertainment Industries. Bob is a member of the AICPA, Chartered Global Management Accountants, California Society of CPAs and the Virginia Society of CPAs. For more information, visit www.scripophily.com or call 703-787-3552.
About Scott J. Winslow Associates, Inc.
Scott J. Winslow began work in the collectibles field in the late 1970s as a cataloguer and researcher for a prominent mail auction house specializing in Americana. After graduating from the University of New Hampshire's Whittemore School of Business & Economics in 1983, he founded his own firm, Scott J. Winslow Associates, and has been a full-time, professional dealer in autographs and historical documents since 1985.
Media Contact:
Kristin Aguilera, Museum of American Finance
212-908-4695, kaguilera@moaf.org