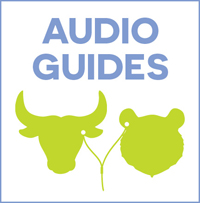 New York, NY – On Tuesday, July 12, the Museum of American Finance will launch a 12-stop audio tour of its permanent exhibits. The tour was developed in partnership with Antenna – a leading innovative multi-media story-telling company – and is narrated by a variety of experts including the Museum's president and curators, as well as CNN founding financial editor Myron Kandel and architectural historian Damien Cregeau.
The tour will feature the backstories of several of the Museum's most popular collections and exhibitions, including objects from the Crash of '29; a stock certificate issued to Ponzi scheme artist Bernie Madoff; rare high-denomination currency; and the solid gold and jewel encrusted Monopoly Set by artist Sidney Mobell, on loan from the Smithsonian's National Museum of Natural History.
"There is so much more to these objects than we can include on printed labels, so the audio guides will bring the exhibits to life in new and exciting ways," said Museum President David Cowen. "I believe the guides will really enhance our overall visitor experience."
The most in-depth stop on the audio tour is the 1880 plaster study of the Alexander Hamilton statue by Carl Conrads, which was commissioned by Hamilton's son as a gift to the city of New York. The study stands just outside the Alexander Hamilton Room – the Museum's permanent tribute to the nation's first Secretary of the Treasury. Also on July 12, in honor of the 212th anniversary of Hamilton's death, the Museum will unveil several new additions to this exhibit, such as an original copy of Hamilton's obituary and a rare 1804 collection of documents pertaining to his death in a duel with Vice President Aaron Burr. This includes correspondence leading up to the duel, Hamilton's last will and testament, the eulogies of his friends and colleagues and detailed information on his funeral ceremony.
The audio guides will be available to visitors on a first come, first served basis for $2 per person. MoAF members and visitors with visual or other impairments will be granted free usage of the guides. This program is sponsored by Con Edison and is supported, in part, by public funds from the New York City Department of Cultural Affairs, in partnership with the City Council.
The audio tour was developed using Antenna Direct®, a combination of hardware and cloud-based software packaged exclusively for small museums and galleries for the development of highly-engaging, custom audio tours.
Media Access: The Museum will provide audio guides at no charge to working members of the press. To arrange for media access, please contact Deputy Director Kristin Aguilera at kaguilera@moaf.org.
About the Museum of American Finance
The Museum of American Finance, an affiliate of the Smithsonian Institution, is the nation's only independent museum dedicated to finance, entrepreneurship and the open market system. With its extensive collection of financial documents and objects, its seminars and educational programming, its publication and oral history program, the Museum portrays the breadth and richness of American financial history, achievement and practices. The Museum is located at 48 Wall Street. For more information, visit www.moaf.org or connect with the Museum on Facebook, Twitter or Instagram @FinanceMuseum.
About Antenna™
Founded in 1984, Antenna™ is the leading provider of technology, content and related services to the world's artistic, historic and cultural institutions. In partnership with these clients, Antenna delivers an immersive, indelible experience in multiple languages to more than 63 million people across the globe each year. With a proud heritage of award-winning innovation, Antenna enables people to see more clearly, understand more deeply and appreciate culture more widely using a variety of technologies.
Museum Press Contact:
Kristin Aguilera
212-908-4695, kaguilera@moaf.org
Antenna Press Contact:
Jeff Pecor
Tailwind Public Relations
802-497-19325, jeff@tailwindpr.com