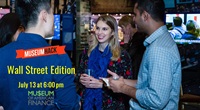 Contact:
Kristin Aguilera, Deputy Director
Museum of American Finance
212-908-4695, kaguilera@moaf.org
New York, NY – On Wednesday, July 13, the Museum of American Finance and Museum Hack will co-host a networking event and cocktail party for Wall Street interns and emerging professionals. In true Museum Hack style, attendees will learn astonishing finance facts and the seldom heard gossip behind America's financial system and its founding father through a series of interactive tours and games.
The event will begin at 6:00 pm and will be held in the Museum's grand mezzanine banking hall at 48 Wall Street. Admission is $20 and includes an interactive tour, as well as beer, wine and snacks. Tickets may be purchased in advance while supplies last at reservations.moaf.org. Attendees must be 21 or older to attend. IDs will be checked at the door.
"We are very excited to partner with the Museum of American Finance! We've been exploring their galleries and have learned so much about how gold has influenced our everyday lives and the way currency has shaped our country," said Zak Martellucci, Creative Experiences Associate at Museum Hack. "We can't wait to blow people's minds with these amazing stories at the event!"
Media Access: A limited number of press passes will be available for this event. Working members of the press interested in attending should contact the Museum's Deputy Director, Kristin Aguilera, at kaguilera@moaf.org.
About the Museum of American Finance
The Museum of American Finance, an affiliate of the Smithsonian Institution, is the nation's only independent museum dedicated to finance, entrepreneurship and the open market system. With its extensive collection of financial documents and objects, its seminars and educational programming, its publication and oral history program, the Museum portrays the breadth and richness of American financial history, achievement and practices. The Museum is located at 48 Wall Street. For more information, visit www.moaf.org or connect with the Museum on Facebook, Twitter or Instagram @FinanceMuseum.
About Museum Hack
Museum Hack provides interactive museum experiences that attract diverse audiences and foster new connections. They also work with museums around the world to increase visitor engagement. Founded in 2013 by CEO Nick Gray, Museum Hack currently offers alternative museum tours in New York City, San Francisco and Washington, DC.