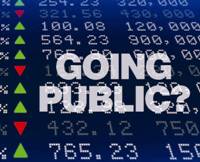 Contact:
Kristin Aguilera, Deputy Director
Museum of American Finance
212-908-4695, kaguilera@moaf.org
New York, NY – On October 28, the Museum of American Finance will host a timely discussion entitled, "Going Public? A Behind-the-Scenes Look at Public vs. Private Funding." The program will be held from 6:00 – 8:00 pm at the Museum at 48 Wall Street in New York. Senior corporate and financial executives will share insights on the trends driving IPOs, the private equity and venture capital markets, why companies are staying private longer and the lifecycles of high growth companies. The discussion will highlight the balancing act between raising capital and maintaining control, while scaling companies to accommodate rapid growth.
Following opening remarks by Steve Hobbs, Managing Director, Protiviti's Public Company Transformation practice, Telis Demos, who covers capital markets and investment banking for The Wall Street Journal, will moderate a fireside chat with New York Stock Exchange President Tom Farley on the current IPO landscape. A panel discussion will follow, with participants, including:
Eli Broverman, COO and Co-Founder, Betterment
Howard Katzenberg, Chief Financial Officer, OnDeck
Sean V. Madnani, Senior Managing Director, Guggenheim Securities, LLC
Howard Morgan, Partner and Co-Founder, First Round Capital
"Going Public?" is sponsored by Protiviti, with additional support from Kx. Special thanks to the New York Stock Exchange and Bateman Group. More information on this event can be found at
www.MoAF.org/IPOpanel.
Media Access: Working members of the press are invited to attend this program. For media access, please contact Deputy Director Kristin Aguilera at kaguilera@moaf.org or 212-908-4695.
About the Museum of American Finance
The Museum of American Finance, an affiliate of the Smithsonian Institution, is the nation's only public museum dedicated to finance, entrepreneurship and the open market system. With its extensive collection of financial documents and objects, its seminars and educational programming, its publication and oral history program, the Museum portrays the breadth and richness of American financial history, achievement and practices. The Museum is located at 48 Wall Street, on the corner of William Street, and is open Tues–Sat, 10 am – 4 pm. For more information, visit www.moaf.org or connect with the Museum on Facebook, Twitter or Instagram @FinanceMuseum.