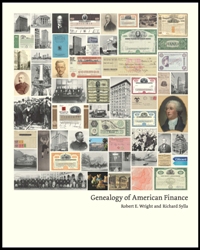 For Immediate Release
Contacts:
Kristin Aguilera, Deputy Director
Museum of American Finance
212-908-4695, kaguilera@moaf.org
Diana Alickaj, Cognito
646-395-6300, moaf@cognitomedia.com
New York, NY – The Museum of American Finance and Columbia Business School Publishing today announced their collaboration on a new book featuring the genealogical "family trees" of the nation's 50 largest banks alongside beautifully illustrated narrative histories of each bank. The book will officially be released on March 10, 2015.
Authored by renowned financial historians Dr. Robert E. Wright and Dr. Richard Sylla, Genealogy of American Finance explores how 50 financial companies came to dominate the US banking system and their impact on the nation's political, social and economic growth. A story that spans more than two centuries of war, crisis and opportunity, it reminds readers that American banking was never a fixed enterprise but has evolved in tandem with the country.
"This project sheds tremendous light into the dynamic nature of our nation's financial history," said Charles M. Royce, CEO of The Royce Funds who is also the underwriter of the project. "One can never completely understand the future without a comprehension of the past. In an easy-to-read and understandable manner, this book gives a narrative history that is accessible by all – from the newcomer working at a bank to the finance professional, from the student to the scholar, from the practitioner to the regulator."
David Cowen, President and CEO of the Museum, said, "The histories of US financial institutions are complex with implications that have greatly influenced the way we all work and live today. We are proud and excited to be a part of this project, as our goal as a Museum is to continually be an educator about the history of American finance – past, present and future."
A companion website featuring the unabridged family trees of each bank will also be available in March. For more information, please visit www.moaf.org/newbook.
In honor of the release of the book, the Museum will also host a launch event on March 10, from 5:30 - 7:00 pm, at the Museum of American Finance. For more information, please contact Deputy Director Kristin Aguilera at kaguilera@moaf.org.
About the Museum of American Finance
The Museum of American Finance, an affiliate of the Smithsonian Institution, is the nation's only independent museum dedicated to preserving, exhibiting and teaching about American finance and financial history. With its extensive collection of financial documents and objects, as well as its seminars, events, educational programming and publications, the Museum portrays the breadth and richness of American financial history, achievement and practices. The Museum is located in an historic bank building at 48 Wall Street, on the corner of William Street, in New York City.