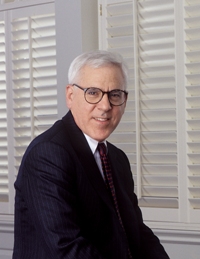 For Immediate Release
Contacts:
Kristin Aguilera, Deputy Director
Museum of American Finance
212-908-4695, kaguilera@moaf.org
Diana Alickaj, Cognito
646-395-6300, moaf@cognitomedia.com
New York, NY – David M. Rubenstein will receive the Museum of American Finance's 2015 Whitehead Award for Distinguished Public Service and Financial Leadership. The award is presented annually to a person who has demonstrated a high order of achievement and leadership in the field of finance, and also served with notable distinction in the public sector. It is named after John C. Whitehead, former Deputy Secretary of State and Co-Chair of Goldman Sachs who has headed numerous public service organizations.
"There is no more deserving recipient of the 2015 Whitehead Award than David Rubinstein," said David Cowen, President and CEO of the Museum of American Finance. "His outstanding achievements in the financial world are only surpassed by his deep commitment and dedication to preserving the nation's history."
Mr. Rubenstein is Co-Founder and Co-CEO of The Carlyle Group, one of the world's largest and most successful private equity firms, with more than $203 billion in assets under management. A Baltimore native, he is a graduate of Duke University and the University of Chicago Law School. From 1973-75, he practiced law in New York with Paul, Weiss, Rifkind, Wharton & Garrison and later served as Chief Counsel to the US Senate Judiciary Committee's Subcommittee on Constitutional Amendments. During the Carter Administration, Mr. Rubenstein was Deputy Assistant to the President for Domestic Policy. Prior to co-founding Carlyle in 1987, he practiced law in Washington with the legacy firm of Pillsbury Winthrop Shaw Pittman.
Mr. Rubenstein is Chairman of the Board of Trustees of the John F. Kennedy Center for the Performing Arts and Duke University, a Regent of the Smithsonian Institution, Co-Chairman of the Brookings Institution, Vice Chairman of the Council on Foreign Relations and President of the Economic Club of Washington. He is also on the Boards of Johns Hopkins University, University of Chicago, Lincoln Center for the Performing Arts, the Memorial Sloan-Kettering Cancer Center, Johns Hopkins Medicine, the Institute for Advanced Study, the National Museum of American History of the Smithsonian Institution and the National Museum of Natural History of the Smithsonian Institution.
The Museum of American Finance will present this award to Mr. Rubenstein at its annual gala on Tuesday, January 13, 2015. For information on this event, please contact Director of Development Jeanne Baker Driscoll at 212-908-4694 or jdriscoll@moaf.org.
About the Museum of American Finance
The Museum of American Finance is the nation's only independent museum dedicated to preserving, exhibiting and teaching about American finance and financial history. With its extensive collection of financial documents and objects, its seminars and educational programming, its publication and oral history program, the Museum portrays the breadth and richness of American financial history, achievement and practices. The Museum is located at 48 Wall Street, on the corner of William Street, and is open Tues–Sat, 10 am – 4 pm. For more information, visit www.moaf.org or connect with the Museum on Facebook or Twitter.