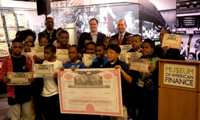 Press Contacts:
Museum:
Kristin Aguilera
Deputy Director, Museum of American Finance
212-908-4695, kaguilera@moaf.org
Southport Lane:
Loretta Mock/Jessica Kleinman
646-395-6300, southportlane@cognitomedia.com
New York, NY – The Museum of American Finance, an affiliate of the Smithsonian Institution and the nation's only independent museum dedicated to finance, entrepreneurship and the open market system, today announced that Southport Lane, a New York-based private equity and asset management firm, will be sponsoring free Saturday admissions for the remainder of 2013. Southport Lane's support will mark the first time a private organization has sponsored free admissions to the Museum.
"The financial history of the United States is a fascinating and vital story about how money, bankers and entrepreneurs helped form our nation's identity, infrastructure and strength," said Alexander Burns, Managing Partner of Southport Lane. "The Museum of American Finance tells this story in an entertaining and accessible way. We believe that knowledge of this history will help individuals gain insight into how financial markets build the economy, as well as the concepts of financial literacy in their own lives."
The free Saturday program will be open to all visitors for the remainder of the 2013 calendar year. As part of the initiative, students who attend on Saturdays will receive an authentic historical stock certificate commemorating their visit. The Wall Street-based museum is a great draw for tourists and locals alike and includes an extensive collection of financial artifacts and interactive exhibits such as "Money: A History" and "Banking in America."
"As the only institution of its kind in the United States, the Museum plays an important role in educating visitors about the financial successes and declines throughout our nation's history," said David Cowen, President and CEO of the Museum of American Finance. "Southport Lane truly understands the importance of the history of American finance, and we are thrilled that this generous donation will help further our mission of promoting financial literacy among even more visitors."
Burns continued: "Southport Lane is honored to be able to further the Museum's mission and introduce it to even more visitors from around the world. We hope that people will enjoy, and benefit from, the Saturday program."
About the Museum of American Finance
The Museum of American Finance is the nation's only public museum dedicated to preserving, exhibiting and teaching about American finance and financial history. With its extensive collection of financial documents and objects, its seminars and educational programming, its publication and oral history program, the Museum portrays the breadth and richness of American financial history, achievement and practices. The Museum is located at 48 Wall Street, on the corner of William Street, and is open Tues–Sat, 10 am – 4 pm. For more information, visit www.moaf.org or connect with the Museum on Facebook or Twitter.
About Southport Lane
Southport Lane is a New York City based private equity firm and asset manager founded in 2010. Southport's private equity fund has active principal investments in insurance, reinsurance, energy, and consumer businesses and seeks long-term investments with a buy-and-hold strategy. The firm is headquartered at 350 Madison Avenue and has total capital commitments in excess of $1 billion. For more information visit www.southportlane.com.