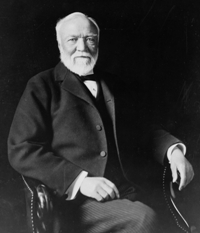 Press Contact:
Kristin Aguilera, Deputy Director
(212) 908-4695, kaguilera@moaf.org
New York, NY – On Tuesday, April 10, the Museum of American Finance will open "Andrew Carnegie: Forging Philanthropy," an exhibit on Carnegie's life and work, with a spotlight on his love of Scotland, his business life and his philanthropic activities. The exhibit will be unveiled at an event presented in conjunction with the American-Scottish Foundation in celebration of Scotland-Tartan Week in New York City.
WHAT: "Life & Legacy of Andrew Carnegie" panel discussion, followed by reception and viewing of "Andrew Carnegie: Forging Philanthropy" exhibit
WHO: The Museum of American Finance and the American-Scottish Foundation will co-present this event. Participants in the panel discussion include the following Carnegie experts: Vartan Gregorian, President, Carnegie Corporation of New York (Introduction); Peter Krass, award-winning author of Carnegie (Moderator); Ellen Condliffe Lagemann, Levy Institute Research Professor, Bard College; Martyn Evans, Chief Executive, Carnegie UK Trust; and Anthony Marx, President, New York Public Library.
WHEN: Tuesday, April 10, 6:00 – 8:00 pm (Panel begins at 6:00; reception to follow at approximately 7:00)
WHERE: Museum of American Finance, 48 Wall Street (corner of William Street), NYC
ADDITIONAL DETAILS: All are welcome to attend this event. Tickets cost $45 and include a one-year membership in the Museum of American Finance. For information and reservations, contact Tempris Small at 212-908-4110 or tsmall@moaf.org. Working members of the press should contact Kristin Aguilera at 212-908-4695 or kaguilera@moaf.org for access to this event.
About "Andrew Carnegie: Forging Philanthropy"
The Museum of American Finance's exhibit on industrialist and philanthropist Andrew Carnegie will feature objects and documents from the Museum's collection, as well as from the Andrew Carnegie Birthplace Museum and the Carnegie Corporation of New York Archives at Columbia University's Rare Book and Manuscript Library. Highlights include George Soros's Carnegie Medal for philanthropy, a $100,000 US Steel gold bond certificate issued to Carnegie for part of the sale of Carnegie Steel to JP Morgan, and the two-sided American/Scottish flag that flew at Carnegie's Scotland estate, Skibo Castle, in the 19th century. "Andrew Carnegie: Forging Philanthropy" will be on view through October 2012.
About the Museum of American Finance
The Museum of American Finance, an affiliate of the Smithsonian Institution, is the nation's only public museum dedicated to finance, entrepreneurship and the open market system. With its extensive collection of financial documents and objects, its seminars and educational programming, its publication and oral history program, the Museum portrays the breadth and richness of American financial history, achievement and practices. The Museum is located at 48 Wall Street, on the corner of William Street, and is open Tues–Sat, 10 am – 4 pm. For more information, visit www.moaf.org or connect with the Museum on Facebook or Twitter.
About the American-Scottish Foundation
The American-Scottish Foundation® is dedicated to strengthening ties between individuals, institutions and businesses of Scotland and the United States. Founded in 1956 by Lord Malcolm Douglas Hamilton, the Foundation's mission remains as it was then – a bridge between two great countries. The Foundation champions the extraordinary and creative relationship for mutual benefit, with an extensive program of projects and events. It is one of the founding partners in the New York Tartan Day Parade, and the Foundation held the first Scotland Week in New York in 1976.