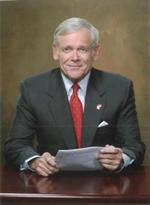 William Donaldson
Contact:
Kristin Aguilera, Communications Director
Museum of American Finance
212-908-4695
kaguilera@moaf.org
New York, NY – William H. Donaldson has been selected to receive the Museum of American Finance's 2010 John C. Whitehead Award for Distinguished Public Service and Financial Leadership. The award is presented annually to a person who has demonstrated a high order of achievement and leadership in the field of finance, and also served with notable distinction in the public sector. It is named after John C. Whitehead, former Deputy Secretary of State and co-chair of Goldman Sachs who has headed numerous public service organizations.
Mr. Donaldson has spent more than 40 years at the highest levels of business, government and academia. Until June 30, 2005 he served as the 27th Chairman of the Securities and Exchange Commission. As SEC Chairman, Mr. Donaldson was the chief regulator of America's securities markets and chief enforcer of the nation's securities laws. His tenure marked the greatest period of activity of the Agency since its founding in 1934. He is currently Chairman of Donaldson Enterprises, a private investment firm, and is a member of President Obama's Economic Recovery Advisory Board (PERAB).
Prior to heading the SEC, Mr. Donaldson was Chairman, President and Chief Executive Officer of Aetna, Inc. one of the nation's largest providers of health insurance and related benefits, and before that he served as Chairman and Chief Executive of the New York Stock Exchange. Earlier in his career, he was the Co-Founder, Chairman and Chief Executive Officer of the investment banking firm of Donaldson, Lufkin & Jenrette (DLJ) and helped found its wholly owned subsidiary the Alliance Capital Management Corporation. He left DLJ to accept a Presidential appointment as United States Undersecretary of State under Secretary Henry Kissinger and subsequently served as Counsel to the then Vice President of the United States, Nelson Rockefeller.
The Museum of American Finance will present the Whitehead award to Mr. Donaldson at its annual gala on Monday, January 11, 2010. For information on this event, please contact Director of Development Jeanne Baker Driscoll at 212-908-4694.
About the Museum of American Finance
The Museum of American Finance, an affiliate of the Smithsonian Institution, is the nation's only public museum dedicated to preserving and presenting the lessons of financial history. With its extensive collection of financial documents and objects, its seminars and educational programming, its publication and oral history program, the Museum portrays the breadth and richness of American financial and economic history. The Museum is located at 48 Wall Street in New York's Financial District.