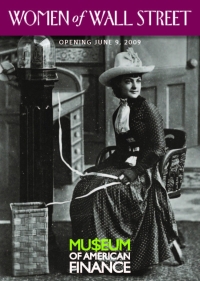 Contact:
Kristin Aguilera, Communications Director
Museum of American Finance
212-908-4695
kaguilera@moaf.org
New York, NY – On Tuesday, June 9, the Museum of American Finance will open "Women of Wall Street," a groundbreaking exhibit showcasing notable women in the world of finance and Wall Street, both historically and in modern times.
"Women of Wall Street" will be presented in two segments – one historical, the other contemporary. The historical component will feature five women: Abigail Adams, a successful bond speculator; Victoria Woodhull, who opened the first female-owned brokerage on Wall Street in 1870; Hetty Green, Wall Street's first female tycoon; Isabel Benham, an accomplished railroad bond analyst who began her career on Wall Street in 1931; and Muriel Siebert, the first woman to purchase a seat on the New York Stock Exchange. The exhibit will use graphics, artifacts and narrative texts to describe the impact each woman had in the world of finance, and highlight the personal characteristics that enabled each woman to succeed in a time when finance was almost exclusively dominated by men.
The second section will be devoted to contemporary women who have reached positions of influence in the financial industry. It will be presented as an interactive installation where visitors can hear these women speak about their experiences and offer their perspectives on being women in finance. Participants include Abby Joseph Cohen, Nancy Peretsman, Sallie Krawcheck, Ann Kaplan and Rosemary McFadden. "Women of Wall Street" will be on display through January 16, 2010.
The Museum will host an opening reception for "Women of Wall Street" from 5:30 – 7:00 pm on Tuesday, June 9, with remarks by Muriel Siebert. Members of the press are invited to attend. To confirm attendance, or for more information, please contact Kristin Aguilera at 212-908-4695 or kaguilera@financialhistory.org.
About the Museum of American Finance
The Museum of American Finance, an affiliate of the Smithsonian Institution, is the nation's only public museum dedicated to finance, entrepreneurship and the open market system. With its extensive collection of financial documents and objects, its seminars and educational programming, its publication and oral history program, the Museum portrays the breadth and richness of American financial history, achievement and practices. The Museum is located at 48 Wall Street, on the corner of William Street, and is open Tues–Sat, 10 am – 4 pm. For more information, visit www.moaf.org or connect with the Museum on Facebook or LinkedIn.