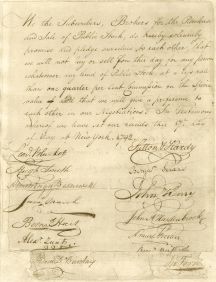 Press Contact: Kristin Aguilera, Communications Director, 212-908-4695
New York, NY – On Thursday, November 20, the Museum of American Finance will open "Trading on the Street," an exhibit tracing the history of trading on Wall Street from the signing of the Buttonwood Agreement in 1792 to the increasing computerization of trading today. The exhibit emphasizes where traders gathered, how they traded, and how technology impacted the process over two centuries of trading on Wall Street.
"Trading on the Street" will feature the original Buttonwood Agreement from 1792, on loan from the New York Stock Exchange Archives, which is among the most important artifacts of Wall Street's history. Other exhibit highlights include a model of a 1930s trading post, engravings and images of trading during the 19th and 20th centuries, photographs documenting the impact of technology on trading, and examples of the devices traders have used during different eras to conduct business.
The Museum will host an opening reception for "Trading on the Street" from 5:30 – 7:00 pm on Wednesday, November 19. Admission to the reception is free for Museum members, and $15 for non-members. For information or reservations contact Lindsay Seeger at 212-908-4110 or lseeger@financialhistory.org. Working members of the press should contact Kristin Aguilera at 212-908-4695 or kaguilera@financialhistory.org to confirm attendance.
"Trading on the Street" is sponsored by NYSE Euronext and will be on display through March 20, 2009.
About the Museum of American Finance
The Museum of American Finance, an affiliate of the Smithsonian Institution, is the nation's only public museum dedicated to finance, entrepreneurship and the free open market system. With its extensive collection of financial documents and objects, its seminars and educational programming, its publication and oral history program, the Museum portrays the breadth and richness of American financial history, achievement and practices. The Museum is located at 48 Wall Street, on the corner of William Street, and is open Monday – Friday, 10 am – 4 pm. For more information, visit www.moaf.org.